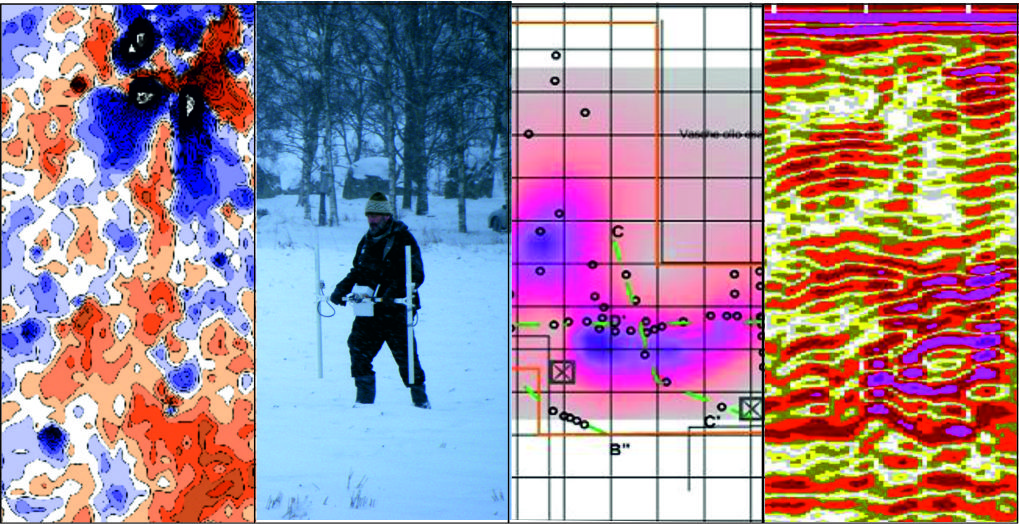 Geophysics: measuring the Earth
Notes or article author name can be added in this area.

Seismic signature of active intrusions in
mountain chains
Francesca Di Luccio,1
* Giovanni Chiodini,2 Stefano Caliro,3 Carlo Cardellini,4
Vincenzo Convertito,3 Nicola Alessandro Pino,3 Cristiano Tolomei,5 Guido Ventura1
Intrusions are a ubiquitous component of mountain chains and testify to the emplacement of magma at depth.
Understanding the emplacement and growth mechanisms of intrusions, such as diapiric or dike-like ascent, is
critical to constrain the evolution and structure of the crust. Petrological and geological data allow us to reconstruct
magma pathways and long-term magma differentiation and assembly processes. However, our ability to detect
and reconstruct the short-term dynamics related to active intrusive episodes in mountain chains is embryonic,
lacking recognized geophysical signals. We analyze an anomalously deep seismic sequence (maximum magnitude
5) characterized by low-frequency bursts of earthquakes that occurred in 2013 in the Apennine chain in Italy. We
provide seismic evidences of fluid involvement in the earthquake nucleation process and identify a thermal anomaly
in aquifers where CO2 of magmatic origin dissolves. We show that the intrusion of dike-like bodies in mountain
chains may trigger earthquakes with magnitudes that may be relevant to seismic hazard assessment. These
findings provide a new perspective on the emplacement mechanisms of intrusive bodies and the interpretation
of the seismicity in mountain chains.
PASTE RESPONSIVE AD
Responsive Design
Notes or article author name can be added in this area.


Geophysics is the application of physics to investigations of the Earth. The study of the interior of the Earth is known as Solid Earth Geophysics, subdivided further into Global Geophysics or alternatively Pure Geophysics which is the study of the whole or substantial parts of the planet and Applied Geophysics which is concerned with investigating the Earth's crust and near-surface to achieve a practical and, more often than not, an economic aim.
Applied Geophysics covers everything from experiments to determine the thickness of the crust to studies of shallow structures for engineering site investigations, exploring for groundwater and for minerals and other economic resources. To try to locate narrow mine shafts or other form of buried cavities, mapping archaeological remains, locating buried pipes and cables and more where in general the total depth of investigation is usually less than 100 m

Geophysical essentially is the measurements of the contrasts in the physical properties of material beneath the surface of the Earth and the attempt to deduce the nature and distribution of the materials responsible for these observations. …. Variations in elastic moduli and density cause seismic waves to travel at different speeds through different materials. …. Variations in the electrical conductivity of rocks and sediments produce varying values of apparent resistivity as the distance between measuring probes is increased or as the position of the probes are changed on the surface. … Density variations in the subsurface lead to variations in gravitational acceleration at surface instrument station and variations in magnetic susceptibilities produce measurable differences in the magnetic field at field observations sites. H.R. Burger et Al. Introduction to Applied Geophysics.


Responsive Design
Notes or article author name can be added in this area.

This website is fully responsive using Media Queries CSS code making the design conform for mobile devices. All Allwebco templates include plain text menus, headers and footers plus a global css style file. All images, including any animated images and any backgrounds, are standard .jpg images that you can optionally replace with your own images, or you can use the included stock images for your website project. Built in basic HTML you can add as many pages as your website project requires in any template. You can also add scripts, applications, links, images and almost any feature you see on other websites can be added to any Allwebco template. Allwebco also provides many
free scripts and add-ons
as well as reasonably priced
premium add-ons
that can be added to any Allwebco template.
PASTE RESPONSIVE AD